Cathy Bryant has yet to disappoint me in anyway with her first series of books. Pilgrimage of Promise puts a beautiful finishing touch on a series of amazing stories and characters.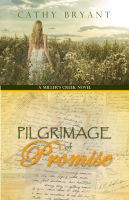 A dusty stack of unopened love letters forces Bo and Mona Beth Miller to revisit a part of their past they'd rather leave buried–especially in the face of death. Only as they retrace history will they learn the truth about the shattered promise that threatens to come between them. But can their relationship endure the deception and sabotage they unearth, or will the experience compel them to trust more fully in the promises that never fail?
I truly loved reading this back story on two characters, Bo and Mona Beth, who have been supporting characters in all three of the previous books, but take front seat in Pilgrimage of Promise. And what a front seat story it is.
High school sweethearts, separated by parents disapproval and misunderstandings, Pilgrimage of Promise allows you to see both sides of their stories, which is not only exciting, but also a little frustrating. Frustrating in a good way though, a keep the pages turning way because you want to see what happens.
If you've had the wonderful opportunity to read any of Cathy's, I highly suggest reading Pilgrimage of Promise.